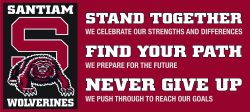 WELCOME TO SANTIAM JR/SR HIGH SCHOOL SCHOLARSHIPS AND MORE 
This page will be updated with information about current opportunities for scholarships and important deadlines, sorted by date due. 
If you have any questions about a scholarship, etc, please contact your counselor:
Amy Jensen last names A-K, grades 6-12
Debbie Fawcett last names L-Z, grades 6-12
---
Go here to fill out your financial aide: FAFSA Link: https://studentaid.gov/
Go here to fill out and find Oregon scholarships and grants:
         OSAC (Office of Student Access and Completion)Oregon's Scholarship database: https://oregonstudentaid.gov/
Scholarships 2023-2024
Class of 2024!! Please see information on the Beat the Odds Scholarship
DUE September 13, 2023 SEE LINK for details and your school email.
https://app.smarterselect.com/programs/89622-Stand-For-Children-Leadership-Center
DESCRIPTION
Stand for Children is a unique catalyst for education equity and racial justice, to create a brighter future for us all. In Oregon, we work to connect historically underserved students with programs and support that help them graduate high school prepared to succeed in college or the work force.
Our Beat the Odds Scholarship program was started in 2007 to emphasize the critical role that education plays in helping students meet challenges and land on a path to success. The program is a partnership between Stand for Children Oregon and The Renaissance Foundation.
We are now accepting scholarship applications from eligible students in the class of 2024.
REQUIREMENTS
Please note that the eligibility criteria has recently changed. This year, scholarship applicants must:
Be a student enrolled in an Oregon public high school, who will graduate in 2024.
Have a 3.0 GPA. Students with a GPA between 2.5 and 2.9 may be considered if their transcript shows marked improvement in recent terms.
Plan to earn a bachelor's degree from an accredited 4-year college in the United States. (Note: Scholarships cannot be applied at community college. Awardees who opt to attend a community college will have their awards held until they are ready to transfer.)
Be able to clearly communicate, both in their written application and in an interview setting, how education and/or their school is helping them overcome obstacles and land on a path to success.
This year, priority consideration will be given to students who will be the very first person in their immediate family to attend a 4-year college. See the FAQ page within the application for details about how we define "first-in-family."
Have a demonstrated financial need.
---
Elks Scholarship 2024 DUE: NOVEMBER 13, 2023
SEE LINK!
The 2024 application deadline is November 13, 2023 at 11:59 p.m., Pacific Time.
Awards:
The Elks National Foundation will award 500 four-year scholarships to the highest-rated applicants in the 2024 competition.
Male and female students compete separately.
Ranging from $1,000 per year to $7,500 per year, Most Valuable Student scholarships are for students pursuing a four-year degree, on a full-time basis (minimum of 12 semester hours), in a U.S. college or university. All scholarships are in the form of certificates of award conditional upon the full-time enrollment of the winner in an accredited U.S. college or university.
---
---