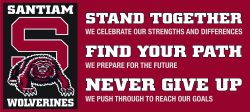 WELCOME TO SANTIAM JR/SR HIGH SCHOOL SCHOLARSHIPS AND MORE 
I will update this page with information about current opportunities for scholarships and important deadlines. 
If you have any questions about a scholarship, etc, please contact Ms. Amy Jensen, Academic Counselor 6-12 at:
amy.jensen@santiam.k12.or.us or 503-897-2311 ext.205.
I am here to help support your next steps! 
Ms. Jensen
Go here to fill out your financial aide: FAFSA Link: https://studentaid.gov/
Go here to fill out and find Oregon scholarships and grants:
           OSAC (Office of Student Access and Completion)Oregon's Scholarship database: https://oregonstudentaid.gov/
Still need help filling out your FAFSA or have questions??? These are the people to ask! 
Check out this link and all of the drop in times/workshops for parents and students: https://oregonstudentaid.gov/fafsaplus.aspx
Just click on "Student and Family Workshops" for drop in times. 
Local Scholarships for 2021
Clyde E. Golden Memorial Scholarship, Mill City Fire Department, DUE May 13, 2021
The Mill City Volunteer Fire Department has established a college scholarship fund to encourage further education in the fire and medical field. The fund was established in memory of Clyde E. Golden, a Mill City Volunteer who died in the line of duty on June 27, 1982.
Clyde was a Charter Member who joined the department in 1939 and served 43 years as a firefighter. Positions held during his 43-year membership were chief, assistant chief, captain, volunteer president, vice-president, treasurer, secretary, public information officer and was a noted drillmaster that devoted much of his time working with young volunteers.
Seniors, please see your email for this scholarship!
Mill City American Legion Post 159 Scholarship DUE May 21, 2021.
Seniors, please see your email for this scholarship!
Ask Ms. Jensen if you have questions or need anything.
Linn County Small Woodlands Association/ Robert Mealey Scholarship Application Due May 14, 2021
Linn County Small Woodlands Association will award four $2,000 renewable college scholarships to students who plan on majoring in Forestry or forestry-related Natural Resource courses in an Oregon college. Dual enrollment programs (such as LBCC-OSU and LCC-UO) are encouraged.  The applicants must be graduates of a Linn County high school. Applications and references need to be postmarked or e-mailed by May 14, 2021.
Each scholarship, valued at $2000.00, will be awarded on the basis of academic achievement, honors and awards, school and community activities and college academic plans.
An application was sent to each senior's email, but can also be found here:
LCSWA Scholarship Application 2021
Santiam Scholarship Due May 3, 2021
The Santiam Scholarship Committee has awarded scholarships to Santiam graduates for 18 years.  The group raises money to support youth of our canyon area as they transition into post-high school college and career training.  Every eligible senior that applies for the scholarship and goes through the application process will receive a scholarship.
SENIORS: This application was sent to your school email account and will NOT appear here. If you have any issues contact Ms. Jensen or Mrs. Fawcett.
Stayton Rotary Scholarship Due May 1, 2021
Our Stayton Area Rotary Club will be awarding scholarships based on applications received from seniors attending Stayton, Sio, Regis and Santiam high schools. Selections will be based on academic and extra-curricular successes and achievements as well as the potential impact the scholarship will have in the achievement of your continuing education.  Scholarships will be paid directly to the institution of choice. To learn more about the scholarships please visit the website https://staytonarearotary.org/supporting-youth/
An application was sent to each senior's email, but can also be found here:
SCHOLARSHIP APPLICATION2021 Rotary
Brent Strohmeyer Memorial Foundation Scholarship Due April 30, 2021
Brent Strohmeyer (son of Russ and Margie Strohmeyer) of Stayton died at the age of 20 years as a passenger in an auto accident. He was very active in the automobile hobby. 
– Brent loved working on cars and enjoyed attending car shows and cruise-ins. He believed classic cars were to be restored, maintained and driven. Not to be neglected, crushed or left to rust away in a field. 
Funds for scholarship are raised for the Brent Strohmeyer Memorial Foundation through sponsorship, 
t-shirt sales and raffles at our Stro's Wednesday Nite Cruise-in at the Stayton A&W restaurant and the Stayton SummerFest Car Show along with other generous donations. 
Any graduation high school student who is a resident in Linn, Marion, or Polk counties or had their senior portraits taken by Russ at Stro's Photography with a minimum GPA of 2.5. Applicant must prove an interest in the automotive hobby or enroll in automotive classes in an institution or higher education (includes community colleges and trade schools). 
With the help of our sponsors and the people who love cars we hope to continue this tradition of honoring Brent's life, promoting the automotive hobby and offering scholarships to students to help them continue their quest of fulfilling and education.' 
Check out 
www.stros.biz for more info or to print out an application 
Thanks, Russ and Margie
Cline Memorial Key Bank Scholarship Due April 12, 2021
REQUIREMENTS
Students must be graduates from high schools situated in the state of Oregon, with preference to schools in Linn and Crook Counties.

First-time applicants must have a cumulative GPA at or below a 3.0. Current or previous recipients must re-apply annually and maintain 2.0 GPA.

Applicants must be attending or have plans to attend any undergraduate post-secondary institution situated in the state of Oregon, at least part-time each term in the upcoming academic year.

Must demonstrate financial need.

Must not be an employee of KeyBank National Association or any of its affiliates. Immediate relatives of any such employees are also ineligible.
Application link below.
https://app.smarterselect.com/programs/71179-College-Now-Greater-Cleveland
Flyer below.
2021-2022 Charles O. and Hazel E. Cline Memorial Scholarship Flyer
Santiam Hospital Auxiliary Scholarship Due APRIL 2, 2021
To be eligible you must live within our service area. This includes Stayton, Lyons, Mill City, Scio, Jefferson,
Aumsville, Gates, Idanha, Marion, Turner, West Stayton, and Sublimity. Please note that Silverton, Salem, Lebanon, and Albany are excluded because these hospitals have their own scholarship programs for their service areas. If you believe you live in our service area but your town is not listed please feel free to contact us. You do not have to be a Santiam Hospital Junior volunteer to qualify.
You must be pursuing a career in a healthcare industry (MD/DO, pre-med, nursing (all inclusive), radiology, Speech, Occupational and Physical Therapy, EMT, pharmacy). If your field of study is not listed, please contact us for clarification prior to applying.  Dental, veterinarian, administration, and nutritional fields of study are excluded.
We will begin accepting applications by email on Jan. 31, 2021. Email address is Scholarship@santiamhosptial.org.  Application packets must be complete and received no later than five o'clock on the first Friday in April (April 2, 2021).  It must arrive before the deadline to qualify.
2021 Scholarship Application.email
DeLapp Family Scholarship Due MARCH 1, 2021
You must fill out an OSAC application, and that will AUTOMATICALLY send your name in for the DeLapp Family Scholarship. You don't have to do more than that.
See the flyer below!
Youth Benefit Due MARCH 1, 2021
The net proceeds from the Youth Benefit Golf Tournament are distributed as scholarships and funding assistance grants for youth programs in the Santiam Canyon.  The following criteria will govern the scholarships and funding assistance grants.
Deadline to submit applications is March 1, 2021.
Scholarships:  Graduating seniors from Regis; Santiam & Stayton High Schools are eligible to apply for a scholarship.  Graduating seniors from the online school ORCA that reside in the Santiam Canyon (Stayton-Sublimity to Detroit-Idahana) are also eligible to apply for one of our scholarships.
Click the link, go to menu, then choose "Grants & Scholarships 2021.