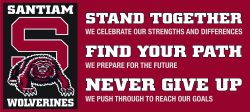 WELCOME TO SANTIAM JR/SR HIGH SCHOOL SCHOLARSHIPS AND MORE 
This page will be updated with information about current opportunities for scholarships and important deadlines, sorted by date due. 
If you have any questions about a scholarship, etc, please contact your counselor:
Amy Jensen last names A-K, grades 6-12
Debbie Fawcett last names L-Z, grades 6-12
---
Go here to fill out your financial aide: FAFSA Link: https://studentaid.gov/
Go here to fill out and find Oregon scholarships and grants:
         OSAC (Office of Student Access and Completion)Oregon's Scholarship database: https://oregonstudentaid.gov/
Scholarships 2021-2022
See attached application:
LCSWA Scholarship Application 2022
See attached application:
See Application Below:
See attached information!
Automotive
See attached for more information:
Link: https://app.smarterselect.com/programs/76241-College-Now-Greater-Cleveland
A copy was sent to your email, passed out in class, AND is posted here.
See below:
Please see attached information:
See Flyer below!
---
Go to the "menu" bar and click "Grants and Scholarships 2022" or see link below!