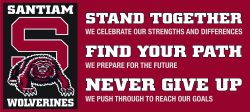 WELCOME TO SANTIAM JR/SR HIGH SCHOOL SCHOLARSHIPS AND MORE 
I will update this page with information about current opportunities for scholarships and important deadlines. 
If you have any questions about a scholarship, etc, please contact Ms. Amy Jensen, Academic Counselor 6-12 at:
amy.jensen@santiam.k12.or.us or 503-897-2311 ext.205.
I am here to help support your next steps! 
Ms. Jensen
Go here to fill out your financial aide: FAFSA Link: https://studentaid.gov/
Go here to fill out and find Oregon scholarships and grants:
           OSAC (Office of Student Access and Completion)Oregon's Scholarship database: https://oregonstudentaid.gov/
Local Scholarships for 2021
Cline Memorial Key Bank Scholarship Due April 12, 2021
REQUIREMENTS
Students must be graduates from high schools situated in the state of Oregon, with preference to schools in Linn and Crook Counties.

First-time applicants must have a cumulative GPA at or below a 3.0. Current or previous recipients must re-apply annually and maintain 2.0 GPA.

Applicants must be attending or have plans to attend any undergraduate post-secondary institution situated in the state of Oregon, at least part-time each term in the upcoming academic year.

Must demonstrate financial need.

Must not be an employee of KeyBank National Association or any of its affiliates. Immediate relatives of any such employees are also ineligible.
Application link below.
https://app.smarterselect.com/programs/71179-College-Now-Greater-Cleveland
Flyer below.
2021-2022 Charles O. and Hazel E. Cline Memorial Scholarship Flyer
Santiam Hospital Auxiliary Scholarship Due APRIL 2, 2021
To be eligible you must live within our service area. This includes Stayton, Lyons, Mill City, Scio, Jefferson,
Aumsville, Gates, Idanha, Marion, Turner, West Stayton, and Sublimity. Please note that Silverton, Salem, Lebanon, and Albany are excluded because these hospitals have their own scholarship programs for their service areas. If you believe you live in our service area but your town is not listed please feel free to contact us. You do not have to be a Santiam Hospital Junior volunteer to qualify.
You must be pursuing a career in a healthcare industry (MD/DO, pre-med, nursing (all inclusive), radiology, Speech, Occupational and Physical Therapy, EMT, pharmacy). If your field of study is not listed, please contact us for clarification prior to applying.  Dental, veterinarian, administration, and nutritional fields of study are excluded.
We will begin accepting applications by email on Jan. 31, 2021. Email address is Scholarship@santiamhosptial.org.  Application packets must be complete and received no later than five o'clock on the first Friday in April (April 2, 2021).  It must arrive before the deadline to qualify.
2021 Scholarship Application.email
DeLapp Family Scholarship Due MARCH 1, 2021
You must fill out an OSAC application, and that will AUTOMATICALLY send your name in for the DeLapp Family Scholarship. You don't have to do more than that.
See the flyer below!
Youth Benefit Due MARCH 1, 2021
The net proceeds from the Youth Benefit Golf Tournament are distributed as scholarships and funding assistance grants for youth programs in the Santiam Canyon.  The following criteria will govern the scholarships and funding assistance grants.
Deadline to submit applications is March 1, 2021.
Scholarships:  Graduating seniors from Regis; Santiam & Stayton High Schools are eligible to apply for a scholarship.  Graduating seniors from the online school ORCA that reside in the Santiam Canyon (Stayton-Sublimity to Detroit-Idahana) are also eligible to apply for one of our scholarships.
Click the link, go to menu, then choose "Grants & Scholarships 2021.