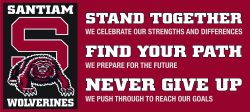 WELCOME TO SANTIAM JR/SR HIGH SCHOOL SCHOLARSHIPS AND MORE 
I will update this page with information about current opportunities for scholarships and important deadlines. 
If you have any questions about a scholarship, etc, please contact Ms. Amy Jensen, Academic Counselor 6-12 at:
amy.jensen@santiam.k12.or.us or 503-897-2311 ext.205.
I am here to help support your next steps! 
Ms. Jensen
Go here to fill out your financial aide: FAFSA Link: https://studentaid.gov/
Go here to fill out and find Oregon scholarships and grants:
           OSAC (Office of Student Access and Completion)Oregon's Scholarship database: https://oregonstudentaid.gov/
Still need help filling out your FAFSA or have questions??? These are the people to ask! 
Check out this link and all of the drop in times/workshops for parents and students: https://oregonstudentaid.gov/fafsaplus.aspx
Just click on "Student and Family Workshops" for drop in times. 
Scholarships 2021-2022
Santiam's Quinn Scholarship for the University of Oregon
 opens on October 15, 2021 and DUE October 25, 2021.
Here is the link (available 10/15):
---
Beat the Odds Scholarship DUE September 15, 2021!
Our Beat the Odds Scholarship program was started in 2007 to emphasize the critical role that education plays in helping students meet challenges and land on a path to success.  The program is a partnership between Stand for Children Oregon and The Renaissance Foundation. The Beat the Odds Scholarship is a $4,000 scholarship, renewable for up to four years, for students who are overcoming adversity and succeeding in school. We are now accepting scholarship applications from public high school students in Oregon, Class of 2022!
The Beat the Odds Scholarship is for students who will feel empowered by telling their story. Recipients are filmed for a biographical video and participate in all related publicity. Stand for Children hosts fundraising events in Portland and Eugene each year. Beat the Odds recipients accept their scholarships and may be asked to speak at these events.
We are currently accepting applications for students in Oregon's Class of 2022. The deadline for applications will be September 15th 2021 at 11:59 p.m.
---
Heisman High School Scholarship Due October 19, 2021
Link below:
The Heisman High School Scholarship program honors the nation's most accomplished, community-minded high school senior athletes. By inviting male and female students from schools across the country to share their stories of leadership and impact, the program aims to inspire all students to harness their potential, push their limits, and use their talents not only to advance their own futures, but to improve the communities and world around them.
---
ELKS SCHOLARSHIP Due November 15, 2021!
Awards:
The Elks National Foundation will award 500 four-year scholarships to the highest-rated applicants in the 2022 competition.
Male and female students compete separately.
Ranging from $1,000 per year to $12,500 per year, Most Valuable Student scholarships are for students pursuing a four-year degree, on a full-time basis (minimum of 12 semester hours), in a U.S. college or university. All scholarships are in the form of certificates of award conditional upon the full-time enrollment of the winner in an accredited U.S. college or university.
The Chicago office of the Elks National Foundation will announce the 500 national winners in late April, 2022. (Many local Lodges, districts and state Elks associations award their own scholarships through this program. These scholarships are not to be confused with the 500 Elks National Foundation Most Valuable Student Scholarships.)
The 20 Top Finalists traditionally* participate in an all expenses paid Leadership Weekend in Chicago during which they'll interview with the national judges. These 20 Finalists will be vying for two first-place awards of $50,000; two second-place awards of $40,000; and two third-place awards of $30,000. The remaining 14 finalists will receive awards of $20,000. The 480 runners-up will receive fifth-place scholarships of $4,000.
*The plan to come together in-person is tentative. However, participation in either an in-person or virtual Leadership Weekend is required to be eligible for the top awards.