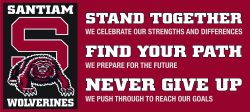 WELCOME TO SANTIAM JR/SR HIGH SCHOOL SCHOLARSHIPS AND MORE 
This page will be updated with information about current opportunities for scholarships and important deadlines, sorted by date due. 
If you have any questions about a scholarship, etc, please contact your counselor:
Amy Jensen last names A-K, grades 6-12
Debbie Fawcett last names L-Z, grades 6-12
---
Go here to fill out your financial aide: FAFSA Link: https://studentaid.gov/
Go here to fill out and find Oregon scholarships and grants:
         OSAC (Office of Student Access and Completion)Oregon's Scholarship database: https://oregonstudentaid.gov/
 Scholarships 2022-2023
Seniors: A copy of EACH scholarship is sent to your email AND is posted here!
See your counselor if you need assistance.
---
Key Bank Cline Memorial Scholarship
Due April 12, 2023
ELIGIBLE STUDENTS
 Students must be graduates from high schools situated in the state of
Oregon, preference to schools in Linn and Cook Counties.
 First-time applicants must have a cumulative GPA at or below a 3.0.
Current or previous recipients must re-apply annually and maintain a 2.0
or better GPA.
 Applicants must be attending or plan to attend any post-secondary
institution situated in the state of Oregon, at least part-time each term in
the upcoming academic year.
 Must demonstrate financial need.
 Must not be an employee of KeyBank National Association or any of its
affiliates. Immediate relatives of any such employees are also ineligible.
See link below:
---
Mill City Lions Club Scholarship
DUE April 6, 2023 to the MAIN OFFICE
See Attachment and also check your school email!
---
Oregon PTA's Teacher Education Scholarship
The Oregon PTA Teacher Education Scholarship is for Oregon residents who are studying for a teaching degree at an Oregon public college or university.  The scholarship is a one- time award of $500 and is not renewable.  Scholarship recipients may, however, re-apply in subsequent years.
Application forms are due to the Oregon PTA Office by March 31, 2023. Scholarship winners will be selected by June 15, 2023.  Recipients will be notified by personal phone call, email, or regular mail, soon after.  The counseling office of high school winners will also be notified.  A check in the amount of $500 will be mailed to the college/university the scholarship winner indicates on the application.  Checks will be mailed before classes start in September.  If the winning student does not attend classes in September 2023, the award money will be returned to Oregon PTA.
---
Scholarship
Details
Registration closes MARCH 15
Two $1000 Scholarships
Open to HS seniors or
students already enrolled
in a CTE related program
Includes apprenticeships,
community college CTE
programs, certification
programs, trade schools
Can be used for tuition,
safety equipment, tools,
etc.
See flyer below for scan code/website application!
---
Harrington Family Foundation Scholarship
Established in 2014 by Oregonian and former NFL quarterback, Joey Harrington, the four-year renewable scholarship is awarded each spring to four Oregon high school students who are emerging leaders and plan to continue their education at an accredited in-state college or trade school. Four scholarships will be issued for the 2023/24 academic year. Each scholarship is worth $5,000 per academic year for a total commitment of $20,000 per student. To learn more about HFF's mission in the state of Oregon  visit harringtonfamilyfoundation.org.
To be considered, applicants must submit a completed application online, which includes a one-page personal essay and two letters of recommendation. Transcripts are not required, nor requested by HFF. There is no application fee.
The application deadline for the 2023 academic year is March 10, 2023. Scholarship recipients will be notified via phone on May 6, 2023.
---
Youth Benefit Golf Tournament Scholarship 
DUE March 1, 2023
See link and attachment and check your school email!
---
Oregon State Fraternal Order of Eagles Scholarship
The Oregon State Fraternal Order of Eagles (FOE) has established the Eagles Scholarship Foundation to provide $1,000.00 scholarships each year. 
All seniors of accredited high schools in Oregon are eligible to apply. 
Scholarships awarded shall be used in an accredited college, university or school of higher learning. 
Scholarship funds shall be paid directly to the college, university or school the student is attending. 
Previous recipients of F.O.E. scholarships are not eligible for future F.O.E. scholarships. 
The application deadline is March 1st of each year.
See attached application:
---
Oregon Athletic Directors Association
Scholarship Application 2022-23
Criteria:
1. Applicant must be a senior son or daughter of a current Athletic Director who is an OADA member
2. Applicant must have achieved at least two (2) of the following:
a. Minimum of a B+ average;
b. Ranked in top 25% of class;
c. ACT score of 24 or an SAT score of 1100 (Verbal and Math only)
3. Applicant must complete attached scholar/essay application below
4. Applicant must have participated in two sports/activities for at least two years in each sport/activity
5. The Principal or Athletic Director must sign the application to ensure that the academic information submitted is
accurate and include an unofficial transcript
See attached:
---
CASA Sister Adele Scholarship for farmworker families
SEE LINK BELOW for more information and application. Apply online only.
Purpose: 
The purpose of this need-based scholarship is to encourage and provide individuals of farmworker families that live in Oregon with the opportunity to further their academic or technical education at the educational institution of their choosing.
Scholarships Available:
Individual awards range from $1,000-$5,000 per scholarship winner. Amounts awarded are determined by number of completed applications received and scoring.
Eligibility Information:
Maintain Oregon residency with a permanent Oregon address.
Be enrolled during 2023–2024 academic year in an accredited community college, 4-year college/university or trade/technical/vocational school (does not have to be an Oregon school).
Be from a farmworker household (within the last 5 years).
Hold a high school diploma or its equivalent (GED) or be pursuing/enrolled in a qualified academic program by the end of June 2023.
No specific GPA is required, although your GPA will count toward your total score.
If you have any questions about eligibility, please contact us: sas@casaoforegon.org.
---
(CLOSED)

Tom Hirons Memorial Scholarship 
Available via STUDENT EMAIL ONLY! 
The Tom Hirons Memorial scholarship was established by Dennis Frank and the Frank Foundation to honor Tom Hirons.
The scholarship is renewable for up to 4 years, $2000.00 each year contingent upon the funding through the Frank Foundation.
The recipient of this scholarship must attend the fall term (September) after graduation from high school. A recipient who takes a gap year or discontinues their continuous education will not be considered for renewal.
This scholarship values, trade school, vocational school, community college, and four-year colleges. Institutions must be accredited.
The recipient must be a Santiam Jr. Sr. High School Student.
---
(CLOSED)

University of Oregon Quinn Scholarship
Available via STUDENT EMAIL ONLY!
See your counselor for information.
Opens November 1, 2022
Closes November 18, 2022
Interviews November 29, 2022
---
(CLOSED)

Elks Scholarship 2023 DUE: NOVEMBER 14, 2022
SEE LINK!
The 2023 application deadline is November 14, 2022 at 11:59 p.m., Pacific Time.
Awards:
The Elks National Foundation will award 500 four-year scholarships to the highest-rated applicants in the 2023 competition.
Male and female students compete separately.
Ranging from $1,000 per year to $12,500 per year, Most Valuable Student scholarships are for students pursuing a four-year degree, on a full-time basis (minimum of 12 semester hours), in a U.S. college or university. All scholarships are in the form of certificates of award conditional upon the full-time enrollment of the winner in an accredited U.S. college or university.
The Chicago office of the Elks National Foundation announced the 500 national winners in April, 2022. (Many local Lodges, districts and state Elks associations award their own scholarships through this program. These scholarships are not to be confused with the 500 Elks National Foundation Most Valuable Student Scholarships.)
The 2022 MVS Leadership Weekend was held virtually. During the weekend, the Top 20 scholars will interview with the national judges. These 20 finalists will be vying for two first-place awards of $50,000; two second-place awards of $40,000; and two third-place awards of $30,000. The remaining 14 finalists will receive awards of $20,000. The 480 runners-up will receive fifth-place scholarships of $4,000. Participating in the virtual Leadership Weekend is required to be eligible for the top awards.